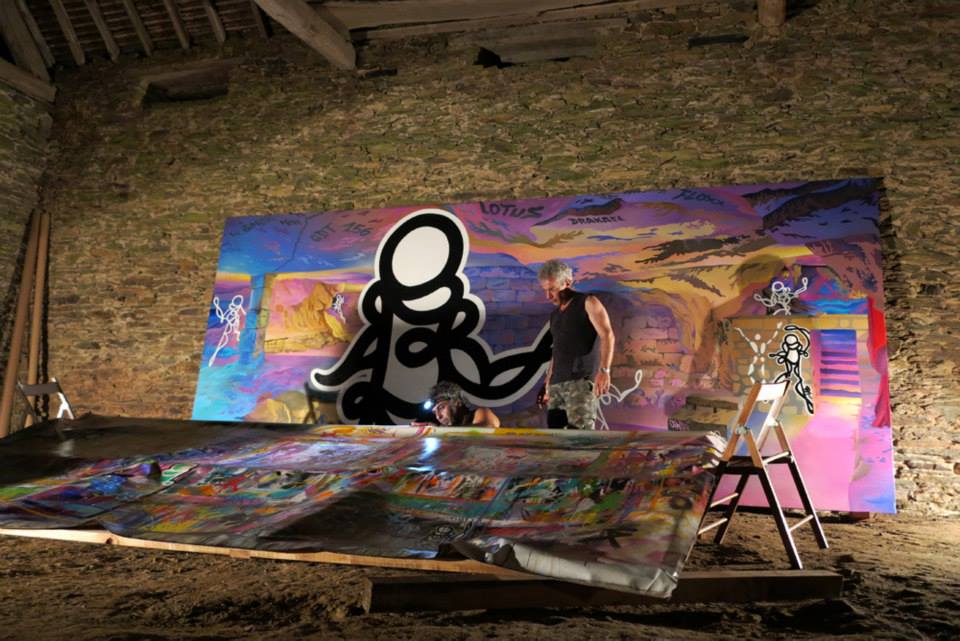 Born:  1971
Nation: France
Artistic Movement : Art urbain
Favorite spot: Catacombs of Paris (former mines)
!!A very good choice!!
Psyckoze began in the world of graffiti in late 1984, at the age of 15.  At that time, this culture means only a couple of people in France.
He began with the tag 'Acro.  He then adopted the pseudonym Psycho in 1987, echoing the attacks in Paris by Action Directe, which permanently became Psyckoze thereafter.
For fifteen years Psyckoze made graffiti in the most amazing places: Louvre palisades of the Bastille via the Seine, color graffiti in subway tunnels.
His involvement in the collective The Charbonniers in 1991, made him aware of the force of urban art.  In 1993, he participated in the event "The street is ours", organized by The Charbonniers.
Meanwhile, he began to develop more intimate works on canvas.  He focused on painting, while continuing his journey in the street.  He exhibited for the first time in the gallery in 1992, in the gallery Magda Danyzs rue Keller in the 11th arrondissement of Paris.  Between 1991 and 1993, he presented his paintings at various Charbonniers events.  In May 1997, he presented a solo exhibition, bringing together works created over five years.  For 400 square meters, in a former factory at the nineteenth arrondissement, he recreated a street with his works produced in different media (canvas, wood, signage panels).  In June of the same year, he produced an exhibition with graffiti artist Jonone.
In September 2001, he participated in the retrospective exhibition in Paris.  In 2003 he produced a solo exhibition entitled Headlock, the Foundry, workshop space and dissemination in Bagnolet. In 2004, he repeated with an exhibition of underground quarries "Autopsy".
From 27 March to 3 May 2009, he participated in the exhibition at the Grand Palais.  He collaborated with Alain Dominique Gallizia, collector and project leader, meeting artists in France and New York and provided insight into the history of the movement in France and across the Atlantic.