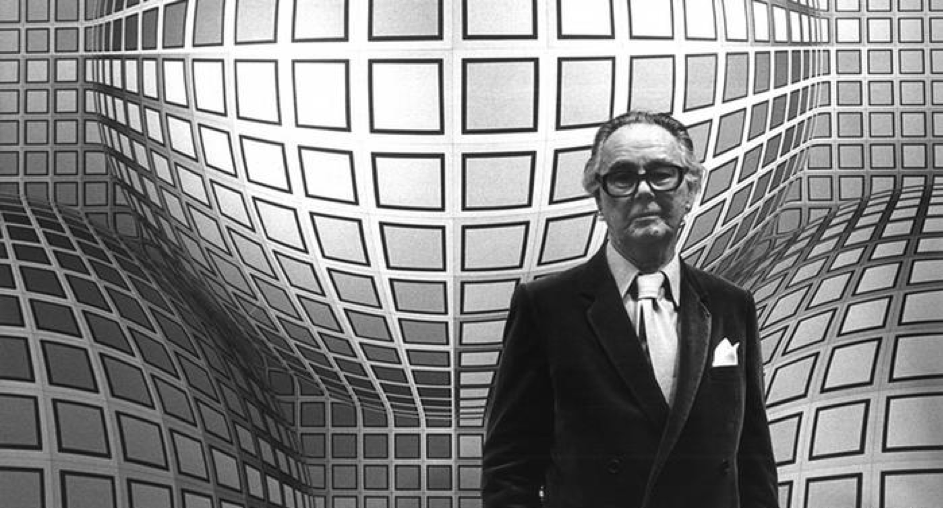 Born:  1906
Nation: Hungary
Art Movement: Optical Art (op art)
Particular sign: Founder of the Optical Art movement
Hungarian-born Victor Vasarely is known as a founder of optical art. Victor Vasarely was born in Pecs and grew up in Pécs (then Pöstyén) and Budapest where in 1925 he took up medical studies at Budapest University. In 1927 he abandoned medicine to learn traditional academic painting at the private Podolini-Volkmann Academy.
Victor Vasarely's excellence in drawing was quickly noticed. In 1929 he painted his Blue Study and Green Study. In 1930 he married his fellow student Claire Spinner (1908-1990). Together they had two sons, Andre and Jean-Pierre. In Budapest, he worked for a ball-bearings company in accounting and designing advertising posters. Victor Vasarely became a graphics designer and a poster artist during the 1930's who combined patterns and organic images with each other.
He studied at the Bauhaus Muhely in Budapest and in 1930 emigrated to Paris where he developed his particular vision which stems from the idea of democratizing the art object. Influenced greatly by the problems of the world's cities, he feels his work offers a solution by presenting a clear view of the "color-surface-perception" relationship.
Over the next three decades, Victor Vasarely developed his style of geometric abstract art, working in various materials but using a minimal number of forms and colours.
He has used the income from the sale of these "investigations," as he calls his prints, to establish a socio-cultural foundation in Aix-en-Provence, France, for the study of the integration of plastic beauty at all levels of the urban environment. He is represented in major museums all over the world and has received many artistic and honorary awards. Among these distinctions are the French Legion of Honor, the Guggenheim Prize, and the Gold Medal of the Triennale in Milan.
On 5 June 1970, Victor Vasarely opened his first dedicated museum with over 500 works in a renaissance palace in Gordes (closed in 1996). A second major undertaking was the Fondation Vasarely in Aix-en-Provence, a museum housed in a distinct structure specially designed by Vasarely. It was inaugurated in 1976 by French president Georges Pompidou. Sadly the museum is now in a state of disrepair, several of the pieces on display have been damaged by water leaking from the ceiling. Also, in 1976 his large kinematic object Georges Pompidou was installed in the Centre Pompidou in Paris and the Vasarely Museum located at his birth place in Pécs, Hungary, was established with a large donation of works by Victor Vasarely. In 1982 154 specially created serigraphs were taken into space by the cosmonaut Jean-Loup Chrétien on board the French-Soviet spacecraft Salyut 7 and later sold for the benefit of UNESCO. In 1987, the second Hungarian Vasarely museum was established in Zichy Palace in Budapest with more than 400 works.